McElroy Metal has comprehensive solutions for retrofitting and recovering existing worn-out roofs.
For worn-out existing metal roofs, McElroy Metal's frameless 238T Metal-Over-Metal Recover System is the industry's best recover solution. McElroy's 238T system can be installed over existing thru-fastened panels. Due to the frameless design, material and labor costs are greatly reduced resulting in an installed price that is competitive with single-ply roofing. Also, jobsite production capabilities enable panels to run from eave to ridge without laps.
Fill out the form to the right to talk to a McElroy Metal retrofit and recover expert!
For worn out existing shingles, McElroy Metal's 138T Shingle Recover System offers an economical and long-term solution. This system does not require sub-framing, tear-off of existing shingles or an underlayment, which saves installation expense. In addition, this recover system offers benefits like ease of installation, individual panel replaceability and longevity as well as a substantial reduction in annual utility expense due our special clip that enables Above Sheathing Ventilation (ASV), a continuous air space under the metal roofing. ASV has been proven to reduce utility expense!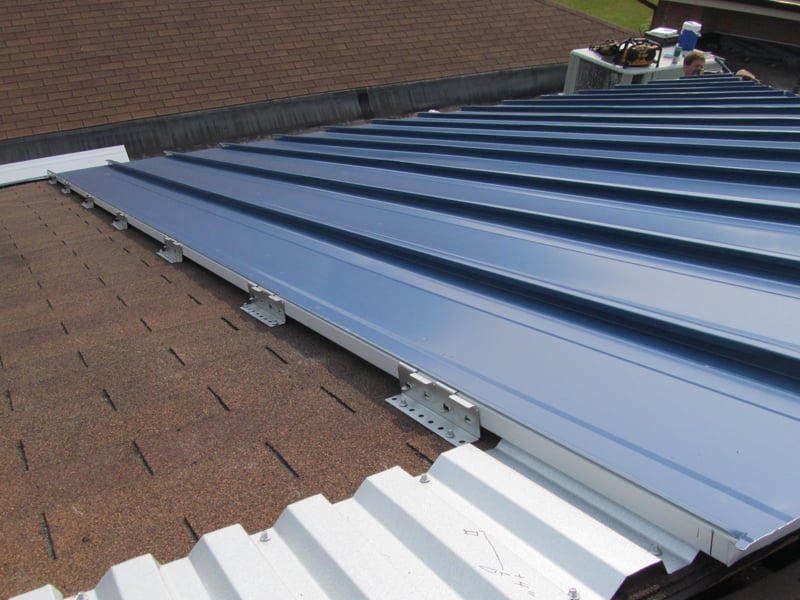 For worn-out conventional flat roofing, McElroy Metal's retrofit roofing systems consist of adding substructural components to the existing flat roof to build slope into the structure and provide a platform to install new metal roofing panels. Once complete, the new roof adds tremendous curb appeal, energy efficiency and a decades-long service life.
Download our Recover eBook
Building owners who need a new roof are interested in maximizing life-span and optimizing cost with as little hassle and disruption to day-to-day operations as possible.
Our eBook focuses on the difference between Remove and Replace and Recover with Metal, two common long-term reroof solutions on the market.
In this eBook you will find:
A reroofing snapshot
System comparisons
Ways to reduce the cost of a new metal roof
Energy codes and insulation considerations
Choosing a partner